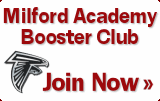 Milford Academy:

The place LeSean McCoy

shaped his NFL career
Read more...

By: Matthew Coller

WGR550 Sports Radio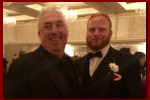 Tyler Matekevich receives the


Chuck Bednarik Award

the Maxwell Awards

Football Factory:

Milford Academy provides

pipeline from New Berlin to

Syracuse, producing 14

players in last 9 years
Read more...

By: Stephen Bailey

The Daily Orange


Powered by Benchmark Email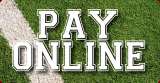 MILFORD ACADEMY NEWS

September 3, 2009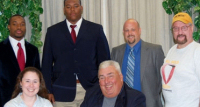 Milford Academy head football coach, Bill Chaplick (seated) presents Chenango United Way Executive Director, Elizabeth Monaco, with an encased autographed ball that includes the signatures of the 2009 Falcons football team. The ball will be raffled off during the first half of Saturday's homecoming game against Southern Tech that kicks off at 7 p.m. Proceeds of the raffle go toward the Chenango United Way community impact fund. Standing in the back from the left are Travon Van, Milford Academy running back who will play for the University of Florida next year; Malcolm Bunche, an offensive lineman headed to the University of Miami, Brian Burton, Chenango United Way volunteer; and Charles McMullen, Chenango United Way board member.


Go Back