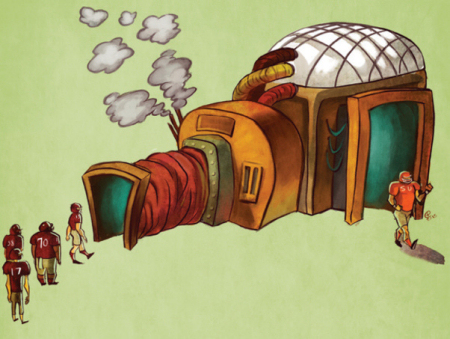 Football Factory: Milford Academy provides pipeline from
New Berlin to Syracuse, producing 14 players in last 9 years
NEW BERLIN, N.Y. - Sixty-eight miles: Thatís the length of windy, one-lane roads and eroding farmland that separates Milford Academy from Syracuse University.



Itís a trip highlighted by homemade stock cars and decaying farmhouses, ever-stretching corn fields and sale signs for pure maple syrup.



Seventeen weeks: Thatís how long each aspiring football player at Milford spends in constant regimentation in hopes of one day making that journey.



Fourteen have since 2006, including current Syracuse H-back Ashton Broyld and outside linebacker Dyshawn Davis - arguably the best players on each side of the ball for the Orange. Nine others who were placed by Syracuse at Milford didnít make it through.



"Youíve got to be a dog to go to Milford and survive," Broyld said. "Iíd probably say thatís tougher than college football. Milford, youíve got kids coming in the first day who leave because they canít live like that."



Milford Academy is a four-building, football-only private school sitting halfway up a hill in New Berlin, isolated to the point of loneliness. But its reputation for placing athletes at Division I universities makes it a draw to many who didnít reach the NCAAís required score on the SAT.



Roughly 65 attend each fall, and every day their schedule is the same.



Wake up at 6:30. Lift. Shower. Eat breakfast. Start classes at 9:20. Practice. Change. Eat dinner. Team meetings until 9. Lights out by 10.



Each athlete enrolls in six classes and averages a 130-point SAT improvement. In the rare intervals of free time, "Frankieís" New York Pizzeria and the local Stewartís convenience store are the biggest parties in town.



Some canít handle the lonely lifestyle. Head coach Bill Chaplick kicks off an average of five players every year.



Others can, but almost everyone agrees itís the hardest thing theyíve ever experienced.



"Just not seeing no girls, thatís probably the hardest part," 2004 Milford-to-Syracuse product Jeremy Horne said. "Especially when you go from high school being around girls to seeing no girls, not even in the area."



Opening the pipeline



R.J. Anderson still remembers the smell of Milford Academyís old gym. Fourteen years ago, back when it was still located in Milford, Conn.



"Shit. Piss. It was just mold," Anderson said. "It had this damp, dew feeling. It seemed like it had been flooded sometime and they kind of never got the stench out of there. It had this mildew smell."



The scent of that decrepit workout room stayed with the quarterback all the way through a four-year career at SU in which he started 33 games after Donovan McNabbís departure.



"I just remember going there and thinking, ĎIíll do anything to get out of here,í" Anderson said.



But Anderson came before the pipeline truly opened up. Before Milford moved to New Berlin in 2004, and back when the Orange still had the talent and reputation to be far more selective in their recruiting process. Milford recruits going to Syracuse wasnít rare, but the stream wasnít consistent. The bond wasnít cemented yet.



That started when SU signed Anderson in Chaplickís first season. Chaplick was named head coach the year after and grew close with former SU head coach Paul Pasqualoni through the years.



Chaplick recalls Pasqualoni sending coordinators Steve Addazio and George DeLeone on recruiting trips. They would wear brown, tweed Harris suits and overcoats - and always meant business.



"Theyíd sit you down and theyíd tell that kid, ĎYouíve got to make sure that you want to be a Syracuse Orangeman,í" Chaplick said. "It was great, great stuff. It was a different era back then with Pasqualoni.



"Ö They could truly recruit with anyone back then."



But by the time Chaplick and Milford finished their first season in New Berlin in 2005, the Orange had gone 16-20 in its last three seasons. And just as importantly, Chaplick was strengthening his rapport with the Syracuse program.



Horne and Joel Coon-Ribble became the first multi-player class in SU-Milford history that offseason.



Building steam



The current Milford weight room is still filled with dated and dinged up equipment, but it smells no worse than any gym. Itís three rooms wide and overlooked by posters of the many former Milford products to reach the NFL.



A photo of Horne catching a sideline pass with the Kansas City Chiefs sits above an adjustable, multi-purpose press in the middle room.



Five players followed him to Syracuse in the three years after he first suited up for SU. Then the Orange landed its next star via Milford in 2008, Mikhail Marinovich.



Marinovich turned down Miami and Purdue to come to Syracuse, gracing upstate New York with what Chaplick called the fastest first step since Dwight Freeney - only he was 60 pounds lighter. The last eight years havenít all gone quite as smoothly with injuries, academic shortcomings and behavioral disqualifications, but the addition of Marinovich helped open the floodgates.



Chaplick grew close with former SU head coach Greg Robinson (2005-08) and even more so with fellow "Northeast guy" Doug Marrone (2009-12) as players like Horne, who played two seasons with the Chiefs, and Marinovich, a three-year starter at SU, highlighted the era.



The two most promising NFL talents, though, never got their college careers off the ground. Defensive end Jermaine Pierce was diagnosed with having blood clots in his lungs during freshman training camp at SU in 2007. Linebacker Myles Davis tore apart his knee playing against West Point while at Milford in 2011.



Neither played again.



"Jermaine Pierce mightíve been the best guy we ever sent to Syracuse if heíd gotten to play," Milford Dean of Students and Business Administrator Mike Brennan said. "He was a beast."



Syracuse honored the scholarships of Pierce and Davis, but the flow of talent from Milford slowed. Ken Tinney (Milford 2005) and Romale Tucker (2007-08) failed to clear academically and the Orange did not place any new players at Milford between 2008-09.



The last batch



Broyld just didnít understand what Buff Bowen was telling him.



"Like alien," the Milford quarterbacks coach described Broyldís initial inability to comprehend instructions. "Painful."



But Broyld worked his way up from third-string quarterback to starting for the 12-0 Falcons. He became the most exciting player on the team, as well as a young man coaches described as coachable and a pleasure to work with.



The same 18 year old who was charged with public lewdness for dropping his pants and exposing himself after a Rush-Henrietta (N.Y.) High School basketball game three months earlier was becoming a Division I student athlete.



"I learned a lot of life lessons. Thatís what Milford is about," Broyld said. "It teaches you how to appreciate things when you get to college."



Broyld, Davis, Jeremiah Kobena, Travon Burke and Jamar McGloster are all Milford products currently listed on the Orange roster.



It was the 2011 class that revitalized the pipeline, though each of the last three classes have blemishes.



Davis and Kobena were supposed to be joined by Myles Davis. Broyldís teammate Tyree Smallwood didnít clear academically and struggled with life at Milford. And in 2013, running back Myles Hilliard was kicked off the team for breaking team rules and fullback Marquis Bownlee had to be sent home for medical treatment.



"One of the best things the school does for them is not only help prepare the good ones, but also weed out the bad ones," Bowen said. "Thereíve been a few kids who were supposed to go to Syracuse who never made it there."



This year, there are no current Milford players committed to Syracuse. Chaplick hasnít even spoken with first-year head coach Scott Shafer.



But the history is more important. The 14 Milford players that have played for Syracuse since 2005 provide Chaplick assurance that Shafer will come back for more.



"I donít have to have him sit in my office," Chaplick said. "I have a long-term relationship with Syracuse."



SU offensive line coach Pat Perles was the first Orange coach to visit this season, looking at offensive linemen on Thursday. While he didnít make it clear to Chaplick which players he was particularly interested, Perles did call 6-foot-3, 280-pound Alexander Thompson last Friday.



Maybe heíll be the next R.J. Anderson or Mikhail Marinovich. Or the next Romale Tucker or Andrey Baskin, each of whom was unable to clear academically in two years at Milford.



Maybe heíll end up elsewhere. Either way, the pipeline will continue to flow as long as Chaplickís desk remains a monotonous hour-and-a-half drive from the Carrier Dome and talented players continue to gain eligibility.



He tells each new player as much at the start of each season.



"Why would you want to come to Milford and not go to school? And not go to practice?" Chaplick asks. "Go home. Go work at McDonalds because thatís where youíre going to end up."



"Here in the middle of nowhere, youíve got nothing to do but go to school and ball out."



By Stephen Bailey
Assistant Sports Editor
The Daily Orange
Published September 30, 2013