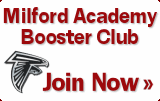 Milford Academy:

The place LeSean McCoy

shaped his NFL career
Read more...

By: Matthew Coller

WGR550 Sports Radio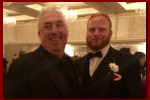 Tyler Matekevich receives the


Chuck Bednarik Award

the Maxwell Awards

Football Factory:

Milford Academy provides

pipeline from New Berlin to

Syracuse, producing 14

players in last 9 years
Read more...

By: Stephen Bailey

The Daily Orange


Powered by Benchmark Email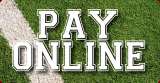 MILFORD ACADEMY NEWS - 2007



August 24, 2007




William Chaplick has been named as "Citizen of the Year 2007." Coming to the New Berlin area over four years ago, Chaplick helped transform what used to be an old school building into what in the football world would come to be know as Milford Academy, now the number two rated prep school in the nation. Along with Chaplick's record of success, he said just making a difference with one student and making them a positive part of the community is worth his many efforts.
August 24, 2007


Milford Academy and head coach, Bill Chaplick, are donating an autographed ball signed by members of this year's team to the Chenango United Way. The ball will be raffled off during this Saturday's opening game against Globe Institute of Manhatten. Game time is 4 p.m. at Fish Field in New Berlin. In the middle are Chaplick and Chenango United Way co-chair, Charlie McMullen. Players from the left are Hugh Stangeland, Richfield, Conn., Kenny Plue, Rensselaer, N.Y., and Ron Dunn, Boston, Mass.


Go Back