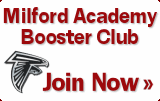 Milford Academy:

The place LeSean McCoy

shaped his NFL career
Read more...

By: Matthew Coller

WGR550 Sports Radio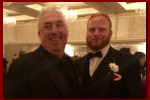 Tyler Matekevich receives the


Chuck Bednarik Award

the Maxwell Awards

Football Factory:

Milford Academy provides

pipeline from New Berlin to

Syracuse, producing 14

players in last 9 years
Read more...

By: Stephen Bailey

The Daily Orange


Powered by Benchmark Email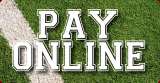 ADMISSIONS
In selecting a student for admission to Milford Academy, the Academy considers not only a student's high school grades, and college board scores, but also his:

Motivation to pursue an undergraduate or postgraduate year
Potential to succeed and graduate from Milford Academy
Athletic ability (if pursuing a collegiate athletic scholarship)
Character as an individual
Ability to flourish in a competitive environment
ADMISSION PROCEDURES
To help make this determination, the following procedures are required of all applicants: Call or write to the Admissions Office to request an application package or download an application packet on the Application Page. Send the Application Review Fee of $65.00 along with the first 3 pages of the application, the Football Questionaire (if appropriate) and a copy of the student's school transcripts. The applicant should also send a (highlight) film at this time if he is a football player. After a thorough review by both the Guidance and Athletic Departments, a determination will be made as to whether an onsite visit is required or warranted. The Admissions Office conducts interviews Monday through Friday and on weekends by special arrangement. If distance or other restrictions make the visitation process difficult, the Academy may provide for an alternate method of interview and evaluation in its admission procedure. Typically, the visit begins with a guided tour of the campus and facilities, meetings with various techers, a sitdown with the athletic director, and concludes with an interview by the admissions officer.
A fully completed application is required at this time, if we are to complete the admissions procedure.


Upon acceptance a fully executed Enrollment Contract must be completed