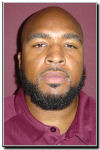 OFFENSIVE COORDINATOR
RUNNING BACKS COACH
Stefon Wheeler, a Milford Alum, is entering his second season as offensive coordinator and third year as a coach at the Academy. Stefon has also been our recruiting coordinator for the past two campaigns. Stefon played for Coach Chaplick in 2000 and started all 13 games at right tackle. After leading the Falcons to a 10-3 record, Stefon was awarded a full scholarship to Michigan State. Milford honored him last year by naming him first team All-Decade.
While at Michigan State, Coach started 35 games at left tackle and was a two-time All-Big Ten selection. In 2005, he was named 1st All-Big Ten by Street and Smith magazine. Stefon signed a free agent contract with the New Orlean Saints in 2006 and played in NFL Europa for the Cologne Centurions in 2007. While playing left tackle overseas, he and his line mates opened the holes for the league's leading rusher. Later in 2007, Wheeler signed with the CFL's Toronto Argonauts. Stef brings professional and Big Ten game experience to our coaching staff again this fall!