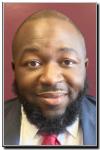 DEFENSIVE LINE COACH
PUBLIC SPEAKING
Glenn Phillips enters his first season as Defensive Line Coach at Milford Academy and will be teaching Public Speaking in the classroom. Phillips comes to Milford from Clark Atlanta University where he served as assistant Recruiting Coordinator and assistant offensive line coach under Head Coach Tim Bowen. Before his time at CAU, Phillips spent 1 season at Virginia University Of Lynchburg under the leadership of his former college coach Jimmy Joe, brother to the legendary Coach Billy Joe. Phillips served as Running Backs Coach and recruiting coordinator while at VUL. Prior to his time at VUL, coach Phillips launched his coaching career at Berkmar High school in Lilburn, Georgia under the leadership of coach Jonathan Sanks.

Phillips values culture, accountability, and discipline in his coaching style. Phillips is a native of Gwinnett County, Georgia where he played under legendary coach Larry Sherrold and coach Jim Tiller at Collins Hill High School. Phillips attended Miles College in Birmingham, Alabama0 where he majored in Elementary Education. Son of Edwin Gayduobah Phillips and the Late Veronica Satta-Morris Phillips, both natives of Liberia, West Africa. Phillips has a 10 year old daughter, Lauren Alizabeth (Tiger) Phillips.