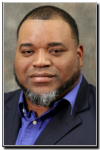 DEFENSIVE COORD
DEFENSIVE LINE

Extremely passionate and inspirational football coach, with over 15years of coaching experience. Combined with his comprehensive football background, Coach Young strives to mentor student athletes to reach their pursuit of excellence, by teaching unique motivational and position techniques.

Young graduated from Bartow High School c/o 1999, and went on to play at the collegiate level for Butler Community College (El Dorado, KS), where he helped lead the Grizzlies to a NJCAA National Championship under head coach Jim Shibest. The following year he played on the defensive line for City College of San Francisco (San Francisco, CA), under legendary coach George Rush, where Courtney also helped win a NJCAA National Championship. During these years, Young was rated 8th best defensive linemen and 50th best Juco Player in the Country. Young then ended his collegiate career at Indiana University from 2001-2003 playing under Kansas City Chiefs Defensive line coach Joe Cullen. From there Young went on to play professionally for the Jacksonville Sharks, in the Arena Football League for six years, winning their conference championship during his first year of play.

After his professional career, Coach Young gained extensive Defensive Coordinator and Defensive Line coaching experience, coaching for varies school, such as Bloomingdale High Co Dc/D-line coach Bartow High assistant head and Dc/D-line, Warner Uiversity-DLine and Winter Haven High- Defensive assistant. In addition to coaching high school, Coach Young has experience coaching in a number of All Star games, such as; the NUC All American Game (Myrtle Beach, SC) and the North vs. South Game (Sebring, FL), The FBS All Star game in Daytona beach Florida as Defensive line coach.

Coach young has 2 kids Nehemiah and Chloč Young.